Also learn about the style or "personality" of each Flavor Essence flavor. See Tasting Notes
Flavor Essence BACON -(Hickory Slab Style) Natural Flavoring
BACON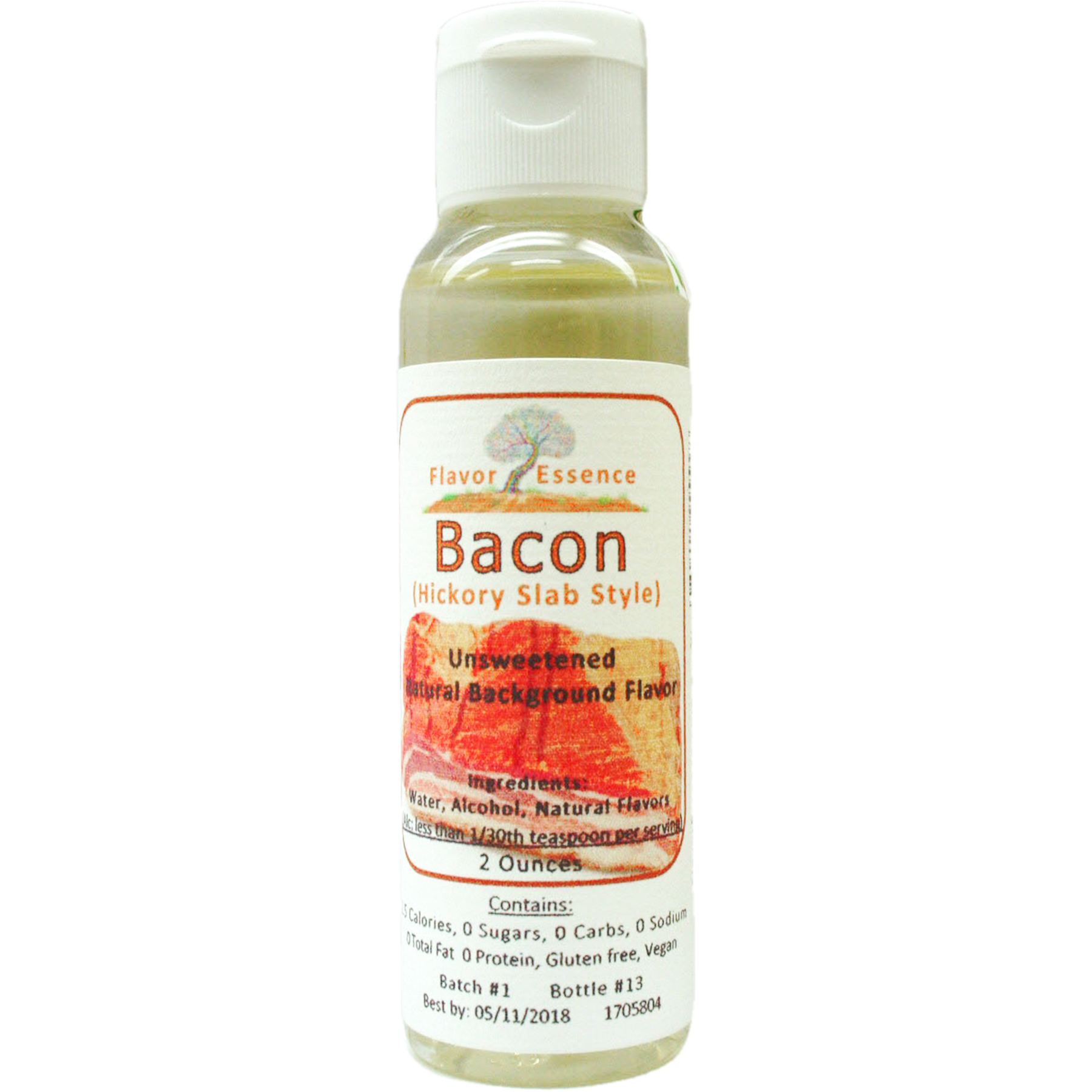 We've been talking about Bacon in-house for a long time. It's a flavor with a house-filling aroma and a crunchy irresistible taste that is almost impossible to reproduce without just pulling out a pan and frying up a few mouth-watering slices. But who can do that everyday? Finally, finally! we have a batch of liquid natural bacon flavoring that is the essence of that earthy browned meat of slab-cut bacon, a touch of hickory and a suggestion of that tasty bit of fat --in both its aroma and taste. Yet, go ahead and see the ingredient list and analysis below. It's a Zero on everything that makes bacon tasty but unhealthy. Dieticians will say, "Yay! Finally!"

We tried very hard to keep the pricing exactly the same as all of our other flavors. But the truth is, to offer really good bacon, it costs us more than our blueberry or any other natural ingredients by a factor of more than two. So as it is, we're introducing the Bacon as our least profitable item, but we get to truthfully say --we didn't cut any corners in its flavor design, so that we could have the maximum "wow factor" and best bacon product out there!
Its taste character is subtle and "true", yet it will permeate as an elegant background into anything you want. It does not have the salt of fried up bacon (you can add you own and this will take to it nicely); and it is not further dressed-up with any maple (that you can add separately, with our Grade-A style Maple flavor).
Just to get your creative wheels turning, think of this as a secret background addition to your gravies, soups and salad dressings. It is excellent also when a touch is added into Bloody Marys and Gazpacho. And it permeates better than bacon bits into dips and mayonnaise. And of course when making egg dishes, it will quickly lend a gentle bacon background into scrambies and omelettes. For the creative folks who want to create their own Bacon / Chocolate concoctions, this 2 ounce bottle will become a key ingredient.
For vegans, yes this is vegan. But 🙂 this Bacon was designed to please the palate of a real meat-lover and bacon enthusiast/critic. We would like to challenge any customer to show us or tell us of another product that has a better bacon flavor personality than this one.
To prepare for our flavor design, we cooked up many different styles of bacon and even some expensive locally-smoked bacon from yogurt-fed stock that ends up in some of Boston's most selective restaurants. We also taste-tested many products that are "pre-flavored" with bacon --both artificially and naturally. During our own in-house kitchen tests of our natural bacon, the flavor came out too powerfully and we almost introduced this in a bottle that would let you "mist" it onto your eggs or salad dressings or into exotic mayonnaise creations. But that would only produce a "surface effect" without complete and desirable integration into our food and drink. So now, a full year after this pipe dream began, we are releasing (the first one that we know of) natural Bacon flavoring that is concentrated at easy-to-use levels to jazz up single serving beverages and small portion meals -- as well as an elegant "finishing" ingredient in pots of chili, stews and many other imaginative dishes.

INGREDIENT ANALYSIS:
Sodium
0

Protein
0

Carbohydrates
0

Sugar
0

Dietary Fiber
0

Trans Fat
0

Monosaturated Fat
0

Saturated Fat
0

Polyunsaturated Fat
0

Fat -Total
0

Cholesterol
0
---
PRESENCE OF ALLERGEN SOURCES:

Wheat (includes Triticum species & Triticale) 0
Egg and Egg Products 0
Fish 0
Milk and Milk Products 0
Peanut Products (oil, nut, etc) 0
Crustacean Shell Fish 0
Soy (flour, oil, proteins, etc) 0
Sulfur Dioxide and Sulfites 0
Tree Nuts 0
Celery (root, stalk, leaves, not seeds) 0
Lupines and Products thereof 0
Mollusks (oysters, clams, etc) 0
Mustard and Products thereof 0
Sesame and products thereof 0
Yellow #5 0
CALORIES:
Each 2 ounce bottle contains approximately 45 servings per single serving of food or beverage.
An average serving size is 1 generous squeeze or just over a 1/4 teaspoon into a 12 ounce serving of food or beverage
Per serving of natural Bacon flavor there are approximately 6 calories.
---
INGREDIENTS:

Water, Alcohol, Natural Flavors
(Nothing else added)
And usual, we have deliberately kept the alcohol level to a bare minimum, that is only a fraction of what is present mass-produced products.
---
Bacon Uses and Tips
In experimental uses and taste tests, the Bacon "behaves best" as a background flavor when you add it into any base that contains fats already.
[The beauty of it is that you are not compounding your recipe with even more fat of the bacon, but you're introducing natural background tastes of hickory smoked bacon]
Several Ideas to give your own creativity a jump start:
Whipped Cream Cheese spreads/dips
Butter (melted and seasoned—always add in after you shut off the burner)
Sour Cream (can add chives for baked potatoes or as an add-in to dips)
Salad Dressings (because of olive oil or other oils, bacon works well)
Gravies/Pan Drippings (from any chicken, pork or beef)
Meat-based Home Made Chile (add in at the end of simmer phase)
Tacos/Burritos
Sautéed Onions (always add in after you shut off the burner)
Several Non-Fat Exceptions that work also:
Bloody Maries
Ketchup
Oatmeal
Maple Syrup
Muffin Mixes and Corn Bread Mixes
---
Mar 3, 2019
Simply Wonderful
The flavors that I have used so far are...:
French Vanilla Creme
And I use the flavors in...:
Sparkling and seltzer water
I was looking for a new way to enjoy vanilla water as my usual brand changed their recipe (at least my tastebuds think they did). I put 14 drops into 24 oz of unflavored seltzer and it was fabulous. I'm now shopping for new flavors. I love the personal note enclosed in the order, such a sweet gesture.
Feb 11, 2019
NH
The flavors that I have used so far are...:
Many
And I use the flavors in...:
Coffee, water, tea
I LOVE the pineapple in my water and have tried so many other flavors, haven't found one that I haven't liked yet.
Feb 3, 2019
Outstanding
The flavors that I have used so far are...:
Lemon, pineapple, coconut, blueberry, raspberry, strawberry
And I use the flavors in...:
Seltzer, cocktails
I am obsessed with these flavors! I haven't dabbled with adding them to baking recipes yet, but they are amazing in my seltzer and fun flavored cocktails. Thanks Mick!!
Feb 3, 2019
Love it, but i agree...please make hazelnut
The flavors that I have used so far are...:
Caramel creme brulee
And I use the flavors in...:
My coffee
Recipe or Flavor Hints to Other People:
I have replace my sugary flavored liquid creamer by mixing flavor essence with monkfruit sweetener and
I love this stuff! Just ordered a 5 pack before my first bottle runs out. Please add a hazelnut flavor, and a butter pecan.
Jan 29, 2019
The flavors that I have used so far are...:
Pineapple, maple, coconut, toasted almond, custard creme, and caramel creme brûlée.
And I use the flavors in...:
Coffee, steamed milk, and water.
Please make hazelnut!!! 💜

Also, my great uncle Derek Owen lives in Hopkinton at Owen Farm. Small world! Lol.