Also learn about the style or "personality" of each Flavor Essence flavor. See Tasting Notes
Flavor Essence CUSTARD CRÉME (Flan - Cannoli Style) -Unsweetened Natural Flavoring
CC-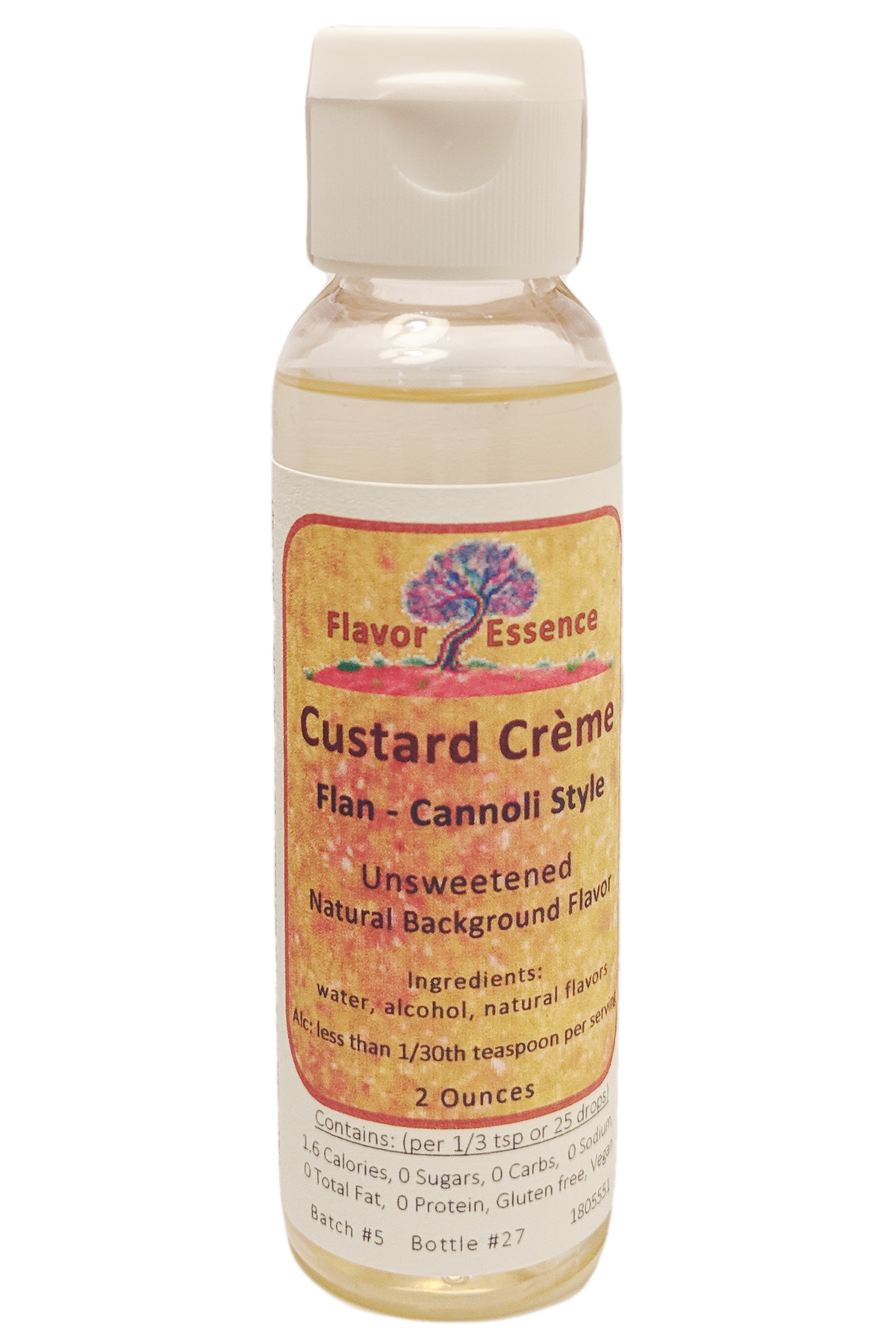 Custard Crème (Flan - Cannoli Style) Sweet creamy perfumes, rich, buttery & soft flavors of warm Flan and fresh Cannoli filling. It has a complex set of perfumes of freshly beaten brown sugar, vanilla bean, eggs and rich cream. Custard Crème shows off layers of taste that are kind of like that spoonful of cookie dough or cannoli filling that you sniff and steal from the bowl when baking. This is our first flavor that almost deserves the term "voluptuous". Even while this creamy flavor belongs in the same "family" as a good vanilla, this actually picks up where simple vanilla ends.
Creative foodees & health-conscious folks, bakers and bartenders will find/give new pleasures with this as a "go-to"secret ingredient.

And yes it is unsweetened, natural and contains less than 2 calories per serving:
Natural Flavoring -Unsweetened (Add your own favorite sweetener)
1.7 Calories, 0 Sugars, 0 Carbs, 0 Sodium, 0 Total Fat, 0 Protein, Gluten Free, Vegan
Contains: water, alcohol, concentrated natural flavors only (Unlike extracts, the alcohol here is purposely minimized to a very nominal level of well less than 1/30th of a teaspoon per serving.
Small batch production 275 to 375 bottles, each batch

Do not refrigerate, store at room temperature out of direct sunlight

Shelf life: Improves with age (like all of our other flavors)
Gourmet quality --Also "behaves well" when blended to enrich our other flavors. (An added hint for creative people: As an example --this flavor is can also be blended into other flavors such as our Rich Dark Chocolate, or Banana Foster, or Toasted Almonds).
2 OZ -Portion-controlled flip-top cap - squeeze your own customized amount either directly into drinks or a into measuring spoon for your batches & stir
Mar 3, 2019
Simply Wonderful
The flavors that I have used so far are...:
French Vanilla Creme
And I use the flavors in...:
Sparkling and seltzer water
I was looking for a new way to enjoy vanilla water as my usual brand changed their recipe (at least my tastebuds think they did). I put 14 drops into 24 oz of unflavored seltzer and it was fabulous. I'm now shopping for new flavors. I love the personal note enclosed in the order, such a sweet gesture.
Feb 11, 2019
NH
The flavors that I have used so far are...:
Many
And I use the flavors in...:
Coffee, water, tea
I LOVE the pineapple in my water and have tried so many other flavors, haven't found one that I haven't liked yet.
Feb 3, 2019
Outstanding
The flavors that I have used so far are...:
Lemon, pineapple, coconut, blueberry, raspberry, strawberry
And I use the flavors in...:
Seltzer, cocktails
I am obsessed with these flavors! I haven't dabbled with adding them to baking recipes yet, but they are amazing in my seltzer and fun flavored cocktails. Thanks Mick!!
Feb 3, 2019
Love it, but i agree...please make hazelnut
The flavors that I have used so far are...:
Caramel creme brulee
And I use the flavors in...:
My coffee
Recipe or Flavor Hints to Other People:
I have replace my sugary flavored liquid creamer by mixing flavor essence with monkfruit sweetener and
I love this stuff! Just ordered a 5 pack before my first bottle runs out. Please add a hazelnut flavor, and a butter pecan.
Jan 29, 2019
The flavors that I have used so far are...:
Pineapple, maple, coconut, toasted almond, custard creme, and caramel creme brûlée.
And I use the flavors in...:
Coffee, steamed milk, and water.
Please make hazelnut!!! 💜

Also, my great uncle Derek Owen lives in Hopkinton at Owen Farm. Small world! Lol.