Also learn about the style or "personality" of each Flavor Essence flavor. See Tasting Notes
Flavor Essence Gift Pack "Gift of Good Taste" -Any Combination [5 x 2 Ounces]
G-5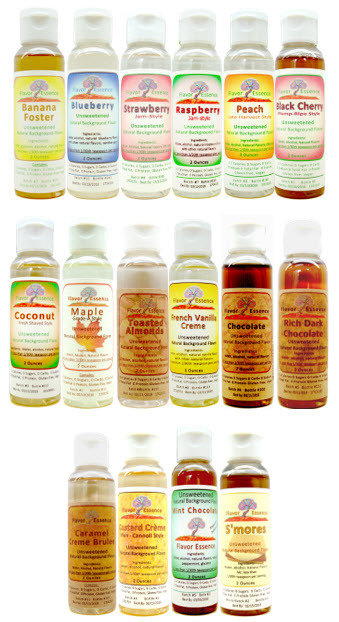 Create your own Gift Selection of any 5 bottles of Flavor Essence
(5 x 2 Ounce bottles. Each bottle will flavor 30+ 12 oz beverages or 12 baking batches)
Here's something different for gourmet-types, foodees and health-conscious folks...
---
HOW TO PLACE THE GIFT ORDER:
These are wrapped box with heavy Mauve-colored paper, and gift-tagged on the outside and inside with "A Gift of Good Taste".
Just type in your gift message that you want included, and we will hand-write it in green ink for you on a tasteful mini-card to your friends and relatives.
Note: If you do not include a gift message, we will ship it more simply in a white box gift-tagged on the top side "A Gift of Good Taste".
Choose any combination of flavors that you want.
We will send these anywhere in the U.S. and U.S. Military Bases (Free Shipping)

ABOUT PRICING: automatic discounts at checkout

| | |
| --- | --- |
| 1 Gift Box $29.95 ($5.99/bottle) | 3 Gift Boxes $74.85 ($4.99/bottle) |
| 2 Gift Boxes $54.90 ($5.49/bottle) | 4 Gift Boxes $89.80 ($4.49/bottle) |
| | ...and deeper discounts available |
---
Create your own 5 BOTTLE GIFT SELECTION... of Flavor Essence -Unsweetened Natural Background Flavorings

The 5-bottle case is the most economical order quantity. ($4.99 per 2 Ounce Bottle).

Made in small 275 to 350 bottle batches for creative foodees & health-conscious folks

Yield per bottle: 30+ drinks or a dozen baking batches
Ingredients: Water, alcohol, natural flavors
Unlike extracts, we minimize the alcohol to a very nominal level --of less than 1/30th of a teaspoon per serving. This is equivalent to about 150 cups of coffee with these flavors, to about 1 glass of wine, and less than the naturally occurring amount in naturally squeezed ripe orange juice.

0 Sugars
0 Sodium
0 Carbohydrates
0 Fats
@ 1 to 2.5 Calories
Gluten Free
AVAILABLE FLAVORS:
Banana Foster (Soft-Ripe Rich Style)
Black Cherry (Plump-Ripe Style)
Blueberry (Ripe-Fresh Style)
Peach (Late Harvest Style)
Pineapple (Fresh-Sliced Style)
Raspberry (Jam Style)
Strawberry (Jam Style)
Tangerine (Juicy Style)
Lemon (Meyer Lemon Style)
Custard Crème (Flan - Cannoli Style)
Coconut (Fresh-Shaved Style)
Toasted Almonds (Amaretto Style)
Cinnamon (Fresh-Ground Style)
Maple (Grade-A Style)
Crème de Menthe (Fresh Mint)
French Vanilla Crème (Creamy-Soft Style)
Caramel Crème Brulee (Elegant Complex Style)
Chocolate (Milk Chocolate Style)
Dark Chocolate (Rich-Non Bitter Style)

Gourmet quality -no allergens, vegan friendly, diabetic friendly, athlete friendly. Its a fun & tasty background flavoring; but its still no nonsense--> "the flavor and just the flavor". You can flavor anything your own way, and flavor it to your own desired levels of strength. Flavor Essence Has No Sweeteners: (Add your own favorite if your tastes or recipes call for it).
There are also no added colors or preservatives, no calories, carbs, fat, sodium or gluten. And believe it or not these still smell and taste great. They are concentrated to act as "Background Flavors". Unlike extracts and syrups that can quickly overpower your recipe, Flavor Essence is gourmet-quality flavor styled to play a well-behaved supportive role, that complements and adds complex taste -- that doesn't dominate over the primary flavors of your favorite beverages and food recipes.
*** In Beverages *** great in coffees, teas, seltzers, protein shakes, smoothies and bar-drinks.

*** In Food Recipes *** great in muffin mixes, cake batters and frostings, bread doughs, mousses, yogurt, pancake batters, French Toast washes/batters (or to flavor the maple syrup itself)
----------------------------------------
Basic Directions / Guidelines
In Beverages:
"Flavor to taste", using from a couple of drops large drinks --up 1 to 2 generous squeezes of Flavor Essence and stir into 12 ounce drinks. (Get to know your flavor by starting off with a small amount—then add more to match your own taste pleasures. For Soda Stream or seltzer /sparkling, 2-3 squeezes will improve the flavor of a liter -- adjust to your own taste levels. In vodka, rum, tequila --a lesser amount is used in straight-up drinks on the rocks. Add your favorite sweetener –since sweeteners tend to amplify the flavoring, adjust to your tastes. Also, the underlying sugars in juices will amplify the flavor –so again customize your flavor-levels to your own desired tastes.
In Food:
Add into almost any baking/cooking project without altering your primary recipes, batters, doughs, mixes, whips, frostings and yogurts. You can even flavor your honey & maple syrup directly.
1 to 2 generous squeezes of Flavor Essence will add delicate but complex background flavor when stirred into oatmeal and other cereals, yogurt. Use approximately 1 teaspoon (3 squeezes) into French Toast/pancake batters, cookie doughs, bread doughs as well as cake batter, muffin mixes, homemade frostings and custards. [1 bottle will flavor about 12 basic batches]
Basic Cooking Guideline:
In baking, the cocoon-effect of doughs and batters will serve to protect and permeate the added flavors. But in high heat cooking, like custards and oatmeal always add a bit of background flavor at the end, **after the heat is turned down –not at the beginning**.
----------------------------------------
SOME TASTING NOTES FOR THE FLAVORS
Banana Foster
Soft, very ripened-banana with complex aroma & taste nuances of buttery brown sugar and a touch of rum/vanilla without any type of sweetener. In this special flavor recipe, we've finally pulled together the friendly, sweet, soft, ripe, perfumes and flavors you experience when a banana goes past the "green stage" and its skin peels off so easily and tastes so plump and fruit-laden. (The owner is a banana lover, and this recipe went through the most work, re-work and tweaking until the aromas and taste could only be beaten by aging and peeling a banana).


Blueberry
Lively / clean aromas and flavor of true-to-form blueberry -- showing off ripe fresh blueberry flavor only. The berry, in its perfume and flavor, has a dainty but ripened personality. It is our best effort to giving you "the right blueberry flavor", nothing else. Beyond its use in hot/iced coffees & teas, this does very well in smoothies as well as high-end vodka martinis.


Black Cherry (Plump-Ripe Style)
After a year of trials, taste testings and revisions, we finally have a true-to-form natural dark cherry that has plump-ripe perfumes and soft/chubby cherry flavors. As one of the most-recently added flavorings, it might have proven to be the toughest of them all "to get it right". The goal was to give you something more real than ever, and to let you forget about syrups and candies. It's about tasting the fruit you see once a year on the tree or in a good jar of preserves!


Coconut
Perfumes of fresh-shaved coconut, and ripe-clean tasting, almost "meaty coconut" flavor. As opposed to being sweet, creamy or oily, our style of Coconut focusses on just the simple tropically fresh coconut meat as its primary personality trait, and then a second characteristic that gives you a piece of soft nuttiness in the finish. [To get gourmet level unsweetened Coconut into drinks is otherwise almost impossible and in food/baking this Coconut will prove to be very practical. This Coconut might end up being one of the most versatile of all flavors –you can easily blend this into our other flavors, or "as-is" into a very large range of drinks and enhance your creative baking projects.


Peach (Late Harvest)
Sweet ripe perfumes of plump soft peaches. The big attempt here was to capture that juicy style of peach that's ready to fall off the tree… you know, when if you grab it too hard the sweet juicy peach bruises in your grip! (And no, there are no sweeteners in this one either!) [FYI: the Peach and Strawberry set new records for degree of difficulty to "get it right"]


Raspberry (Jam-style)
Ripened raspberry with darker aromas & tastes of warm jam –it has the kind of perfumes and flavor of the berries when they are about to fall from the vine. Compared to the pre-flavored raspberry that you've had before, this does not have that "ribbon candy" or "sweety-pie character" that artificial raspberry flavoring often exhibits.


Strawberry (Jam-Style)
Nice bouncy strawberry perfumes with the juicy taste of jammy strawberry. Its "boisterous" personality ought to remind you of real, vine-softened, strawberries that stain your fingers from a local Pick-Your-Own farm (--not the store-bought strawberries that are huge, look nice, but are shelf-ripened and almost tasteless). This tasty Strawberry even has a small hint of some fresh earthiness from the little seeds.

Toasted Almonds
Fresh nutty and sweet aromas of almonds --without any sugars, and slow- roasted almond in its soft body of flavor. This flavor reveals some great almond nut-laden layers of taste in the middle ,and a soft lingering finish. What's nice here is that it is a bit more forward than some of the other Flavor Essence flavorings, but it still has a clean daintiness with no odd aftertastes. The flavor is nicely amplified when you add your own sweeteners that you desire.


Chocolate (Milk Chocolate Style)
With this newest recipe, we have finally bottled up a really clean classical milk chocolate. Even though it is unsweetened, it has gourmet-quality melted and frothy aromas, plus the right frothy/melty chocolate in the body of the flavor that a lot of people crave but "need to avoid". And it has no odd after-tastes, just chocolate. We finally "did it". [This chocolate sets up a very nice contrast to its "big brother" flavor –the Rich Dark Chocolate]


Rich Dark Chocolate
Noticeable aromas of a warm deep chocolate bar. Unlike dark cocoa or chocolate, this has the pleasantly deeper darker melted chocolate flavor without any bitterness. (Also for sensitive folks, like the other flavors this contains no sugars & does not have allergens). This dark chocolate plays well when blended with the Toasted Almonds and Banana Foster.


This Rich Dark Chocolate is the perfect background flavoring when you want to add a clean-tasting darker chocolate background dimension to your beverages and your creative food recipes.


Caramel Crème Brulee
Melted caramel and sweet cream custard aromas and flavors without any sugars (add your own). This is a dainty but seductively rich set of flavors. It can nicely add complexity and pleasing background flavors to any coffee, oatmeal, chocolate chip recipe, muffin mix (and even exotic adult beverages/ drinks that contain Baileys, Kahlua or amaretto).
The Caramel Crème Brulee natural concentrate is kind of a secret item --because it is not an off-the-shelf flavor that is either simple to mimic or commonly found as an ingredient. Creative people, chefs and bartenders will find and get new pleasures from this "secret ingredient".


French Vanilla Crème
Very clean fresh vanilla with a sweet aroma and soft texture that brings about a creamy custard backdrop onto your palette. This is different than ordinary vanilla because of its dainty perfumes and flavors that will accent your coffees/teas with some finesse. (Another positive side-effect, is that this flavor and all of the others will smooth off the bight or acidity of coffees/teas and alcohol-based drinks. In all applications, this will provide a soft rich background flavor). In cookie mixes, French toast batters, bread doughs and cake mixes, the French Vanilla Creme differs from extracts in that it is a more mellow and integrated component that enriches the primary flavors as a subtle backdrop to your recipe.


Custard Crème (Flan – Cannoli Style)
Sweet creamy perfumes, rich-soft flavors of warm Flan and fresh Cannoli filling. It has a complex set of perfumes of freshly beaten brown sugar, vanilla bean, eggs and rich cream. Custard Crème shows off layers of taste that are kind of like that spoonful of cookie dough or cannoli filling that you sniff and steal from the bowl when baking.
This is our first flavor that almost deserves the term "voluptuous". Even while this creamy flavor belongs in the same "family" as a good vanilla, this actually picks up where simple vanilla ends—adding a richness and complexity not tasted before in mere vanilla.


Maple (Grade-A Style)
Rich earthy aromas, with very warm-clean maple body of flavor. The overall finish of this Maple is lush, yet elegantly soft. (This recipe is completely without any sweeteners --add your own). And it is a kind of exciting product for you to use, without that cloying artificial candy-ish taste or after-taste that is so disappointing in artificial products.
If you've ever visited a sugar shack in New England while Maple sap is being boiled and evaporated, the aromas/perfume of this Maple will remind you of the heady steam that fills the sugar shack on the 1st evaporation runs. This unique product has a flavor "personality" that deliciously tastes like the Grade-A samplings that visitors get to sip while the first vats of concentrated maple liquid are still warm.


Mint Chocolate (While this batch lasts)
Fragrantly minty with light but creamy nuances of melted chocolate. This limited-edition flavor is unsweetened -as are all of the flavors, and is nicely laced with clean natural peppermint, a blend of chocolate and rich dark chocolate so that it can hit both the high notes and low notes in taste. The mint is robust enough to show itself off above the chocolate aromas and also linger in a lightly cooling finish.
This flavoring will "amplify" very well when you add your own sweeteners, or even better when you "borrow" off of the existing sugars in your shakes, hot chocolate, Baileys, ice creams or cookie doughs.


S'mores (While this Batch lasts)
This is a fun but complex taste experiment with a tri-level blend of lean milk chocolate, marshmallow and graham cracker. As with the real thing taken from the fire, some folks prefer lightly toasted marshmallow --not burned or scorched.


Pumpkin Spice
Deliciously sweet and almost heady aromas of fresh cinnamon, vanilla bean, a touch of fresh allspice, just a smidge of nutmeg and less than a smattering of clove. This is the very classic Old New England blend of spices, all coming together; to show off both earthiness and freshness --you know, the kind you dream of in a suave café latte, in refreshing herbal teas, and in home-made pies, and warm spiced muffins, and of course hot spiced ciders. The "finish" of this Pumpkin Spice is soft and elegant, with lingering almost seductive perfumes.


----------------------------------------
Flavor Essence:
A Gift of Good Taste
Product Number:50507
Number of bottles:5
Eligible for discount:no
Choose Any 5 Bottles Total
Banana Foster (0) Blueberry (0) Peach (Late Harvest Style) (0) Raspberry (Jam Style) (0) Strawberry (Jam Style) (0) Tangerine (Juicy Style) (0) Pineapple (Pulp Style) (0) Coconut (Fresh-Shaved Style) (0) Lemon (Meyer Lemon Style) (0) Cinnamon (Fresh-Ground Style) (0) Maple (Grade-A Style) (0) Mint (Fresh-Cut Style) (0) Custard Crème (Marshmallow-Flan) (0) Caramel Crème Brulee (0) Toasted Almonds (0) French Vanilla Crème (0) Chocolate (Milk Chocolate) (0) Rich Dark Chocolate (0)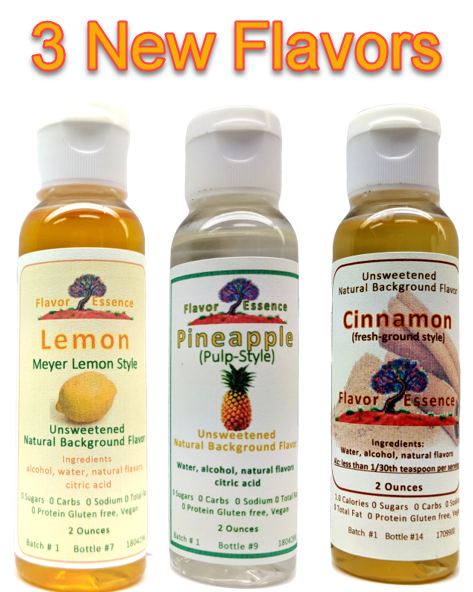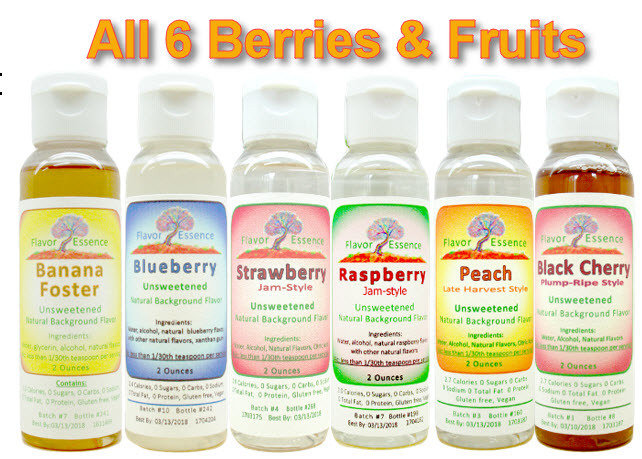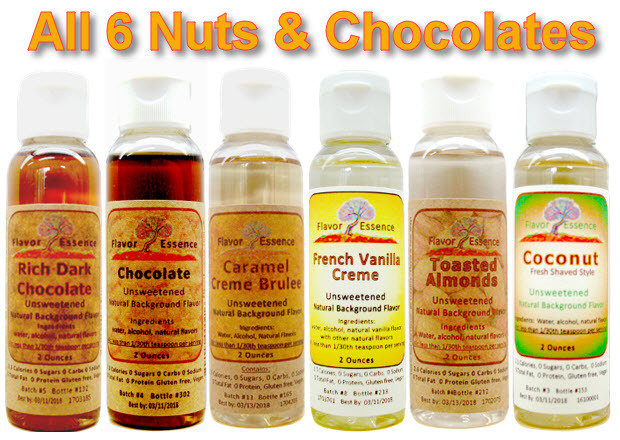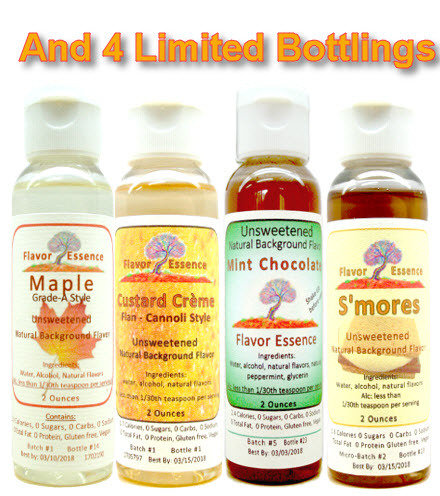 Mar 3, 2019
Simply Wonderful
The flavors that I have used so far are...:
French Vanilla Creme
And I use the flavors in...:
Sparkling and seltzer water
I was looking for a new way to enjoy vanilla water as my usual brand changed their recipe (at least my tastebuds think they did). I put 14 drops into 24 oz of unflavored seltzer and it was fabulous. I'm now shopping for new flavors. I love the personal note enclosed in the order, such a sweet gesture.
Feb 11, 2019
NH
The flavors that I have used so far are...:
Many
And I use the flavors in...:
Coffee, water, tea
I LOVE the pineapple in my water and have tried so many other flavors, haven't found one that I haven't liked yet.
Feb 3, 2019
Outstanding
The flavors that I have used so far are...:
Lemon, pineapple, coconut, blueberry, raspberry, strawberry
And I use the flavors in...:
Seltzer, cocktails
I am obsessed with these flavors! I haven't dabbled with adding them to baking recipes yet, but they are amazing in my seltzer and fun flavored cocktails. Thanks Mick!!
Feb 3, 2019
Love it, but i agree...please make hazelnut
The flavors that I have used so far are...:
Caramel creme brulee
And I use the flavors in...:
My coffee
Recipe or Flavor Hints to Other People:
I have replace my sugary flavored liquid creamer by mixing flavor essence with monkfruit sweetener and
I love this stuff! Just ordered a 5 pack before my first bottle runs out. Please add a hazelnut flavor, and a butter pecan.
Jan 29, 2019
The flavors that I have used so far are...:
Pineapple, maple, coconut, toasted almond, custard creme, and caramel creme brûlée.
And I use the flavors in...:
Coffee, steamed milk, and water.
Please make hazelnut!!! 💜

Also, my great uncle Derek Owen lives in Hopkinton at Owen Farm. Small world! Lol.