| | |
| --- | --- |
|   |     |
5 Bottle Case of Nuts & Chocolate (On Sale $24.95 --$4.99/Bottle)
5-NutsAndChoc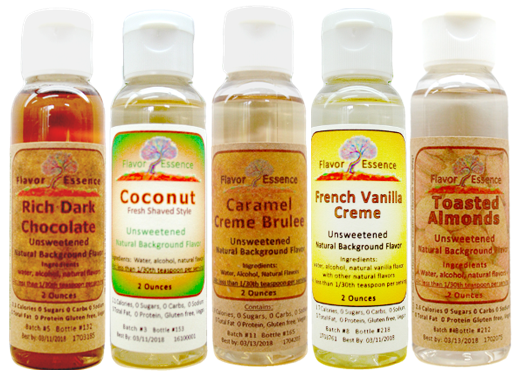 This is a tasty mixed case that gives you one bottle each the 5 Nuts and Chocolate flavors! [Caramel Creme Brulee, Rich Dark Chocolate, Coconut, Toasted Almonds, French Vanilla Creme]. See the tasting notes below:
The price is automatically discounted from $37.45 down to $24.99 ($4.99 per bottle). Free Shipping within 2 business days --to anywhere in the U.S.
If you'd like us to substitute Chocolate instead of the Rich Dark Chocolate, just tell us inside your Order Comments 🙂
If you are sending this as a gift, just add your Gift message/instructions to your Order Comments.
---
Caramel Crème Brulee --Melted caramel and sweet cream custard aromas and flavors without any sugars (add your own). This is a dainty but seductively rich set of flavors. It can nicely add complexity and pleasing background flavors to any coffee, oatmeal, chocolate chip recipe, muffin mix (and even exotic alcohol based drinks that contain Baileys, Kahlua or amaretto).
The Caramel Crème Brulee natural concentrate is kind of a secret item --because it is not an off-the-shelf flavor that is either simple to mimic or commonly found as an ingredient. Creative people, chefs and bartenders will find and get new pleasures from this "secret ingredient".
Rich Dark Chocolate --Noticeable aromas of a warm deep chocolate bar. Unlike dark cocoa or chocolate, this has the pleasantly deeper darker melted chocolate flavor without any bitterness. (Also for sensitive folks, like the other flavors this contains no sugars & does not have allergens).
This dark chocolate plays well when blended with the Toasted Almonds and Banana Foster. The small-batch Rich Dark Chocolate is the perfect background flavoring when you want to add a clean-tasting darker chocolate background dimension to your beverages and your creative food recipes.

Coconut [NEW –Batch#1 December 1, 2016] --Perfumes of fresh-shaved coconut, and ripe-clean tasting, almost "meaty coconut" flavor. As opposed to sweet, creamy or oily, our style of Coconut focusses on just the simple tropically fresh coconut meat as its primary personality trait, and then a second characteristic that gives you a piece of soft nuttiness in the finish.
[To get gourmet level unsweetened Coconut into drinks is otherwise almost impossible and in food/baking this Coconut will prove to be very practical]. This Coconut might end up being one of the most versatile of all flavors –you can easily blend this into our other flavors, or "as-is" into a very large range of drinks and enhance your creative baking projects.

Toasted Almonds --Fresh nutty and sweet aromas of almonds --without any sugars. Darker roasted almond flavors in the body. This Batch came out with some great almond nut-laden layers of flavor in the middle and a soft lingering finish. What's nice here is that it is a bit more forward than some of the other Flavor Essence flavorings, but it still has a clean daintiness with no odd aftertastes. The flavor is nicely amplified when you add your own sweeteners whenever you desire.
French Vanilla Crème --
Very clean fresh vanilla with a sweet aroma and soft texture that brings about a creamy custard backdrop onto your palette. This is different than ordinary vanilla because of its dainty perfumes and flavors that will accent your coffees/teas with some finesse. (Another positive side-effect, is that this flavor and all of the others will smooth off the bight or acidity of coffees/teas and alcohol-based drinks. In all applications this will provide a soft rich background flavor). In cookie mixes, French toast batters, bread doughs and cake mixes, the French Vanilla Creme differs from extracts in that it is a more mellow and integrated component that enriches the primary flavors as a subtle backdrop to your recipe. that it is a more mellow and integrated component that enriches the primary flavors as a subtle backdrop to your recipe.
---
Flavor Essence Flavorings
Average rating:
0 reviews