| | |
| --- | --- |
|   |     |
CUSTARD CRÉME (Flan - Cannoli Style) Unsweetened Natural Flavoring
CC-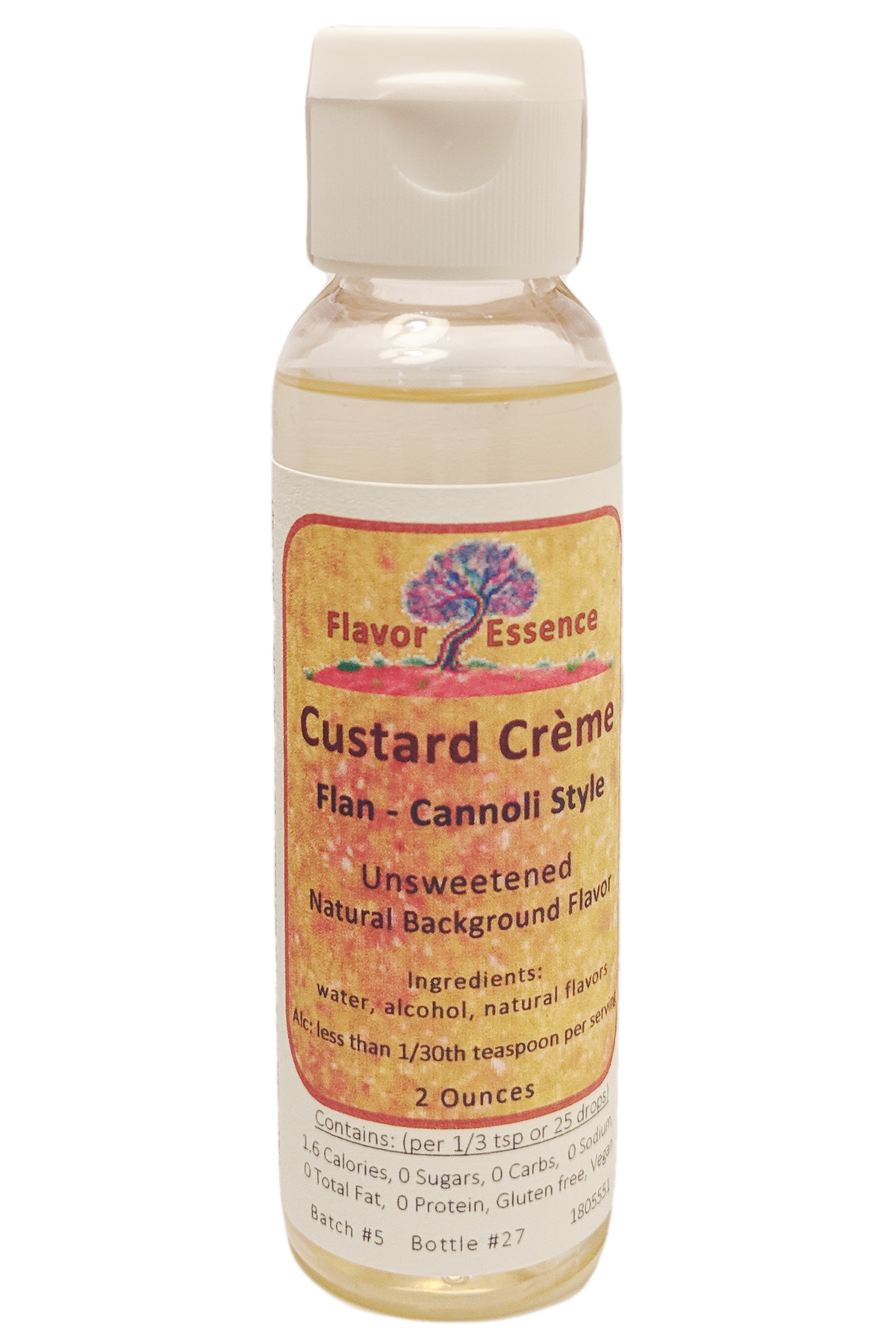 Custard Crème (Flan - Cannoli Style) Sweet creamy perfumes, rich, buttery & soft flavors of warm Flan and fresh Cannoli filling. It has a complex set of perfumes of freshly beaten brown sugar, vanilla bean, eggs and rich cream. Custard Crème shows off layers of taste that are kind of like that spoonful of cookie dough or cannoli filling that you sniff and steal from the bowl when baking. This is our first flavor that almost deserves the term "voluptuous". Even while this creamy flavor belongs in the same "family" as a good vanilla, this actually picks up where simple vanilla ends.
Creative foodees & health-conscious folks, bakers and bartenders will find/give new pleasures with this as a "go-to"secret ingredient.

And yes it is unsweetened, natural and contains less than 2 calories per serving:
Natural Flavoring -Unsweetened (Add your own favorite sweetener)
1.7 Calories, 0 Sugars, 0 Carbs, 0 Sodium, 0 Total Fat, 0 Protein, Gluten Free, Vegan
Contains: water, alcohol, concentrated natural flavors only (Unlike extracts, the alcohol here is purposely minimized to a very nominal level of well less than 1/30th of a teaspoon per serving.
Small batch production 275 to 375 bottles, each batch

Do not refrigerate, store at room temperature out of direct sunlight

Shelf life: Improves with age (like all of our other flavors)
Gourmet quality --Also "behaves well" when blended to enrich our other flavors. (An added hint for creative people: As an example --this flavor is can also be blended into other flavors such as our Rich Dark Chocolate, or Banana Foster, or Toasted Almonds).
2 OZ -Portion-controlled flip-top cap - squeeze your own customized amount either directly into drinks or a into measuring spoon for your batches & stir
Flavor Essence Flavorings
Average rating:
0 reviews