| | |
| --- | --- |
|   |     |
MINT CHOCOLATE (Limited Edition) Unsweetened Natural Flavoring
M-Choc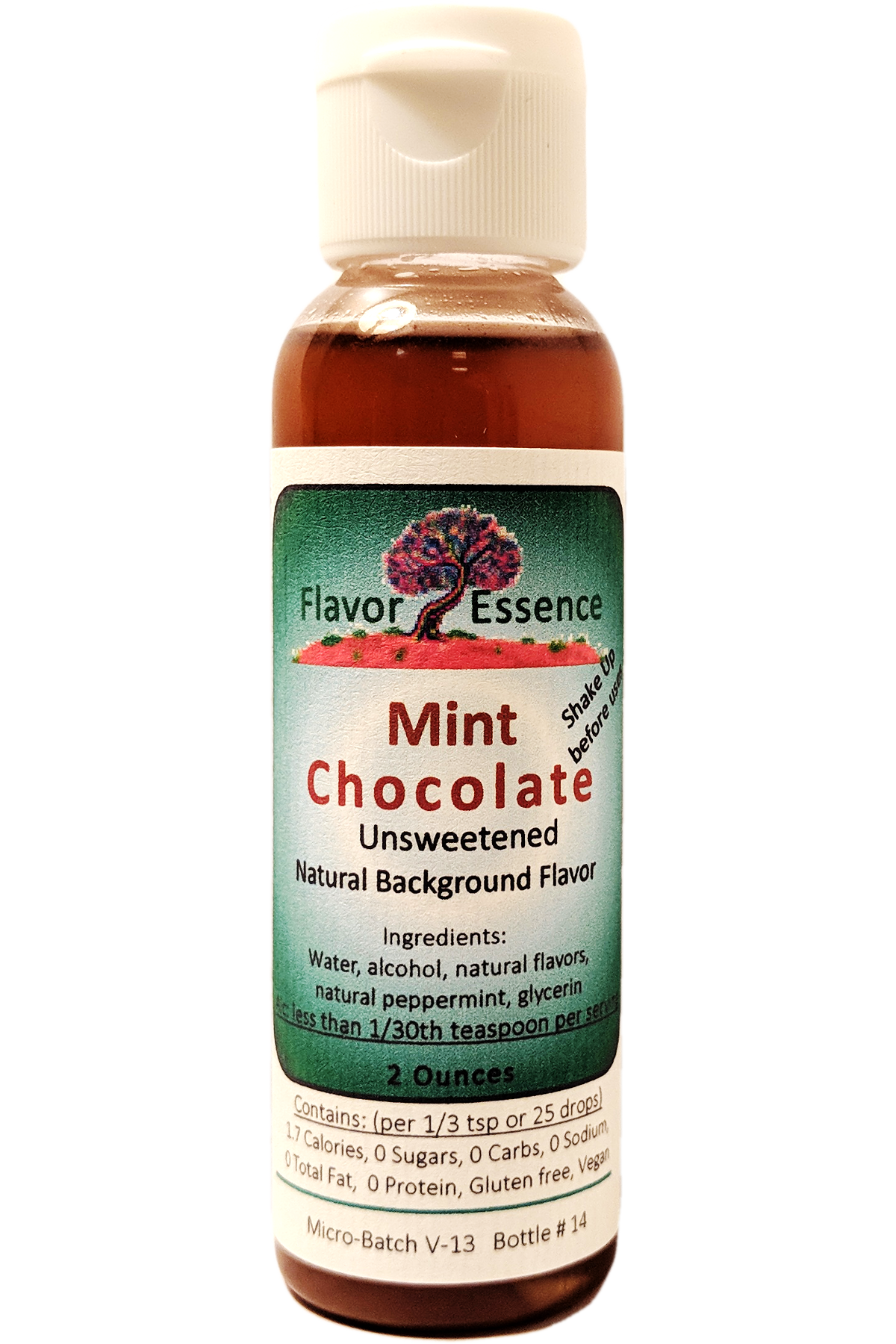 Mint Chocolate -Fragrantly minty with light but creamy nuances of melted chocolate. This limited-edition flavor is unsweetened -as are all of the flavors, and is nicely laced with clean natural peppermint, a blend of chocolate and rich dark chocolate so that it can hit both the high notes and low notes in taste. The mint is robust enough to show itself off above the chocolate aromas and also linger in a lightly cooling finish.
This flavoring will "amplify" very well when you add your own sweeteners, or even better when you "borrow" off of the existing sugars in your shakes, hot chocolate, Baileys, Kahlua, ice creams, home made frostings and cookie doughs.
Natural Flavoring -Unsweetened (Add your own favorite sweetener)
2.4 Calories, 0 Sugars, 0 Carbs, 0 Sodium, 0 Total Fat, 0 Protein, Gluten Free, Vegan
Contains: water, alcohol, concentrated natural flavors, natural peppermint, glycerin (Unlike extracts, the alcohol here is purposely minimized to a very nominal level of well less than 1/30th of a teaspoon per serving.
Small batch production 275 to 375 bottles, each batch'

Approximately 30+ servings per 2 ounce bottle

Shake well before uses

Do not refrigerate, store at room temperature out of direct sunlight

Shelf life: Improves with age (like all of our other flavors)
2 OZ -Portion-controlled flip-top cap - squeeze your own customized amount either directly into drinks or into a measuring spoon for your batches & stir. [In basic-sized baking batches use between 1 and 1 1/2 teaspoons].
Flavor Essence Flavorings
Average rating:
0 reviews