| | |
| --- | --- |
|   |     |
PINEAPPLE (Fresh-Sliced Style) Unsweetened Natural Flavoring
PA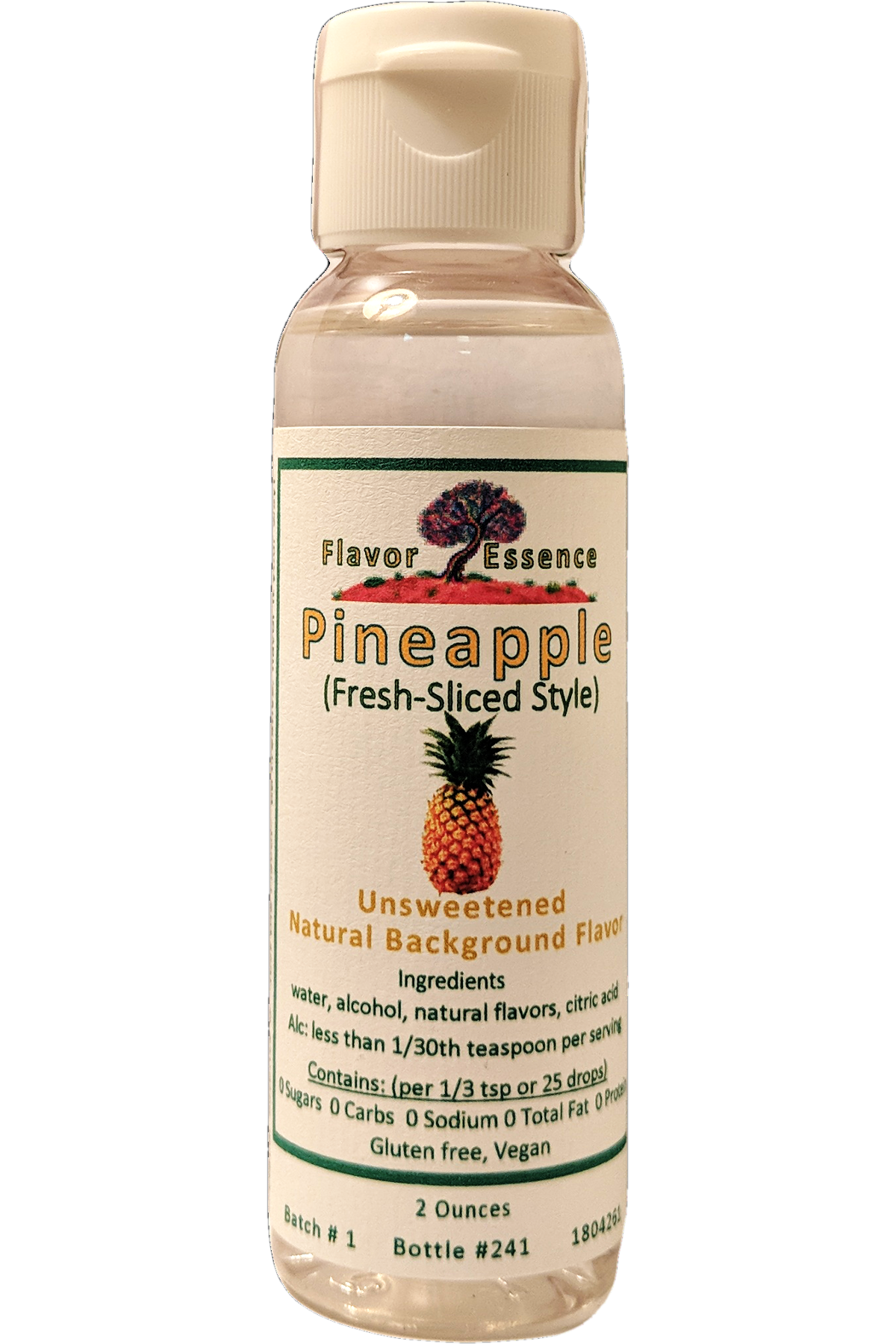 PINEAPPLE (Fresh-Sliced Style)
Unsweetened Natural Background Flavor
This Pineapple's personality shows off an aroma-mix of ripened fresh-cut pineapple along with a tropical layer of tart-sweet perfumes.
The flavor style has a lively bite, yet the fruity taste of softened pineapple is right there too –>we're trying for the best outer first-inch of the fruit when you skin and slice a ripe-softened sweet & sour pineapple yourself.
The personality of this is a bit more boisterous than the other flavor concentrations, so go a bit easier on amounts you use.This was designed to match up and blend in really well with our Coconut (Fresh-Shaved Style).
Ingredients:
Water, alcohol, natural flavors, citric acid

Serving Size: 1/3 teaspoon / 25 drops
30+ Servings per 2 oz Bottle
Nutritional Analysis:

| | |
| --- | --- |
| Calories | 4 |
| Water Weight | 0.67 g |
| Protein | 0 g |
| Carbohydrates | 0 g |
| Sugars | 0 g |
| Added Sugars | 0 g |
| Dietary Fibers | 0 mg |
| Total Fat | 0 g |
| Saturated Fat | 0 g |
| Trans Fat | 0 g |
| Polyunsaturated Fat | 0 g |
| Monounsaturated Fat | 0 g |
| Cholesterol | 0 mg |
| Ash | 0.03 g |
| Vitamin A | 0 mcg |
| Vitamin B6 | 0 mg |
| Vitamin B12 | 0 mg |
| Vitamin C | 0 mg |
| Vitamin D | 0 mcg |
| Vitamin E | 0 mg |
| Thiamin | 0 mg |
| Riboflavin | 0 mg |
| Niacin | 0 mg |
| Pantothenic Acid | 0 mg |
| Folate | 0 mg |
| Calcium | 0 mg |
| Phosphorus | 0 mg |
| Iron | 0 mg |
| Sodium | 0 mg |
| Potassium | 0 mg |
| Magnesium | 0 mg |
| Zinc | 0 mg |
| Copper | 0 mg |
| Manganese | 0 mg |
| Selenium | 0 mg |
Flavor Essence Flavorings
Average rating:
0 reviews