| | |
| --- | --- |
|   |     |
5-Bottle Case of Fruits & Berries (On Sale $24.95 --$4.99/Bottle)
5-FruitBerry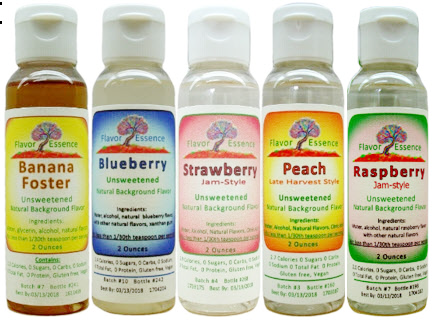 This is a tasty mixed case that gives you one bottle each of the 5 fruit and berry flavors! [Strawberry, Banana Foster, Blueberry, Peach and Raspberry]. See the tasting notes below:
The price is automatically discounted from $37.45 down to $24.99 ($4.99 per bottle). Free Shipping within 2 business days --to anywhere in the U.S.
If you'd like us to substitute Chocolate instead of the Rich Dark Chocolate, just tell us inside your Order Comments 🙂
If you are sending this as a gift, just add your Gift message/instructions to your Order Comments.
---
Strawberry (Jam-Style) --Nice bouncy strawberry perfumes with the juicy taste of jammy strawberry. Its "boisterous" personality ought to remind you of real, vine-softened, strawberries that stain your fingers from a local Pick-Your-Own farm (--not the store-bought strawberries that are huge, look nice, but are shelf-ripened and almost tasteless). This tasty Strawberry even has a small hint of some fresh earthiness from the little seeds.
Banana Foster --New Batch -Enhanced recipe--Soft, almost over-ripened banana with complex aroma & taste nuances of buttery brown sugar and a touch of rum/vanilla without any type of sweetener. In this new flavor recipe, we've finally pulled together the friendly, sweet, soft, ripe, perfumes and flavors you experience when a banana goes past the "green stage" and its skin peels off so easily and tastes so plump and fruit-laden. (The owner here is a banana lover, and this recipe went through the most work, re-work and tweaking until the aromas and taste could only be beaten by aging and peeling a banana).
Blueberry --Lively / clean aromas and flavor of true-to-form blueberry -- showing off ripe fresh blueberry flavor only. The berry, in its perfume and flavor, has a dainty but ripened personality. It is our best effort to giving you "the right blueberry flavor" and nothing else. Beyond its use in hot/iced coffees & teas, this does very well in smoothies as well as high-end vodka martinis.
Peach (Late Harvest) --Sweet ripe perfumes of plump soft peaches. The big attempt here was to capture that juicy style of peach that's ready to fall off the tree… you know, when if you grab it too hard the sweet juicy peach bruises in your grip! (And no, there are no sweeteners in this one either!) [FYI: the Peach and Strawberry set new records for degree of difficulty to "get it right"]
Raspberries (Jam-style) --Ripened raspberry with darker aromas & tastes of warm jam –it has the kind of perfumes and flavor of the berries when they are about to fall from the vine. Compared to the pre-flavored raspberry that you've had before, this does not have that "ribbon candy" or "sweety-pie character" that artificial raspberry flavoring often exhibits.
Flavor Essence Flavorings
Average rating:
0 reviews