| | |
| --- | --- |
|   |     |
LEMON (Meyer Lemon) Unsweetened Natural Flavoring
Lem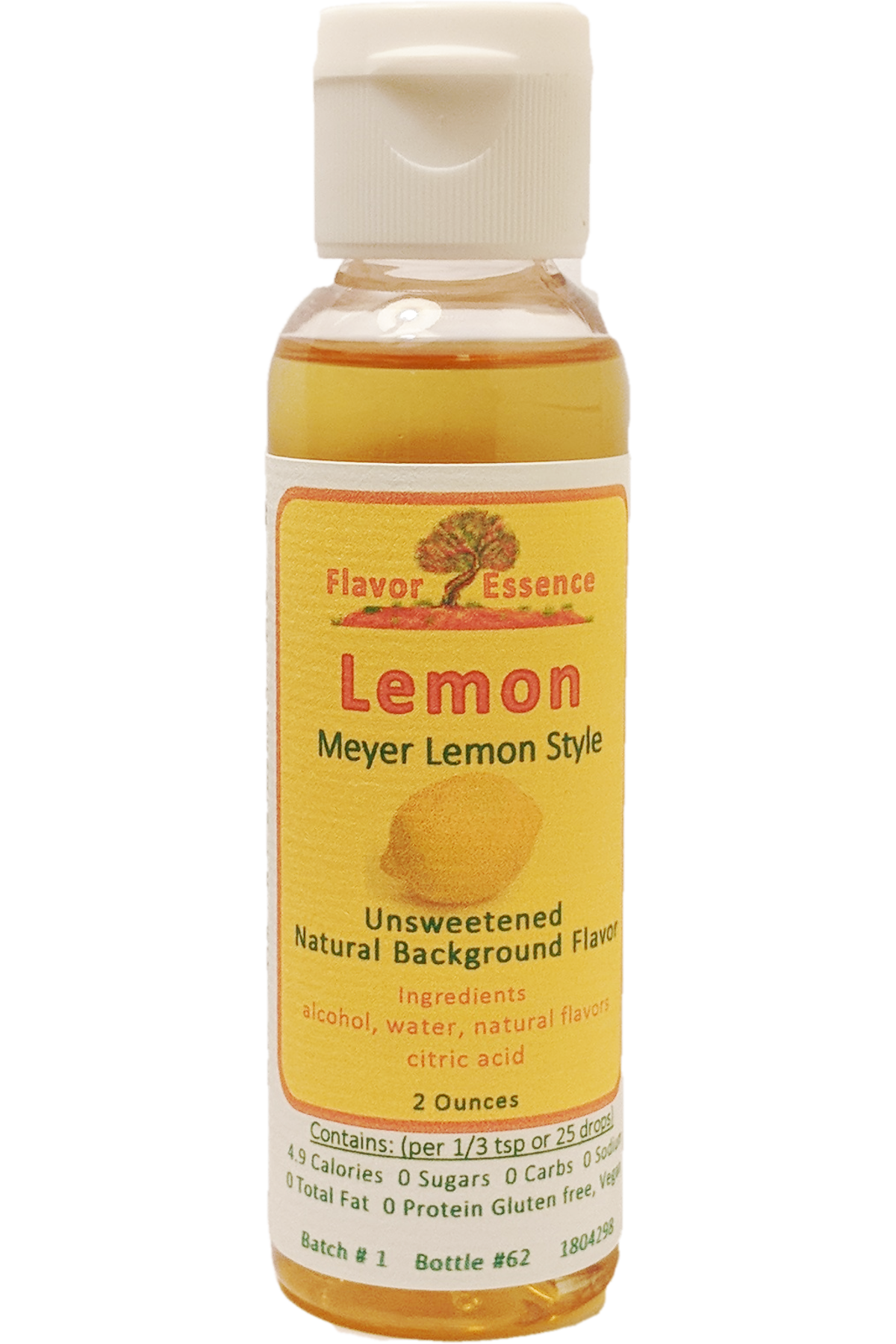 Lemon (Meyer Lemon Style)
Unsweetened Natural Flavoring
Very fresh aromas of shaved lemon zest and the pulp of fresh-squeezed lemon. This lemon is more "forward" than our other background flavors has quite a "zippy" personality (so start off by using it sparingly). What you will notice is kind of a complex blend of flavor happening with refreshing lemon taste, citrus infusion, the lively bite of shaved lemon zest, and to some people a smidge of background orange.
This will easily liven-up your water, sparkling water, teas/ iced teas;
and also be a simple ways to perk up and add a new dimension to marinades, salad dressings, frostings and even things like sugar cookie dough.
The Meyer Lemon was definitely the toughest of all flavors to "get right" and contains the most expensive extractions of anything else we are bottling (except for the unique Bacon we bottle --that one is sold basically at cost). Because of these factors, it will take a landslide of guru-customer pressure before another citrus flavor is attempted.
Ingredients:
Alcohol, water, natural flavors, citric acid

Nutritional Analysis
| | |
| --- | --- |
| Protein | 0 g |
| Carbohydrates | 0 g |
| Sugars | 0 g |
| Added Sugars | 0 g |
| Dietary Fibers | 0 mg |
| Total Fat | 0 g |
| Saturated Fat | 0 g |
| Trans Fat | 0 g |
| Polyunsaturated Fat | 0 g |
| Monounsaturated Fat | 0 g |
| Cholesterol | 0 mg |
| Ash | 2.0 g |
| Vitamin A | 0 mcg |
| Vitamin B6 | 0 mg |
| Vitamin B12 | 0 mg |
| Vitamin C | 0 mg |
| Vitamin D | 0 mcg |
| Vitamin E | 0 mg |
| Thiamin | 0 mg |
| Riboflavin | 0 mg |
| Niacin | 0 mg |
| Pantothenic Acid | 0 mg |
| Folate | 0 mg |
| Calcium | 0 mg |
| Phosphorus | 0 mg |
| Iron | 0 mg |
| Sodium | 0 mg |
| Potassium | 0 mg |
| Magnesium | 0 mg |
| Zinc | 0 mg |
| Copper | 0 mg |
| Manganese | 0 mg |
| Selenium | 0 mg |
Flavor Essence Flavorings
Average rating:
0 reviews