| | |
| --- | --- |
|   |     |
MAPLE (Grade-A Style) Unsweetened Natural Flavoring
MAP-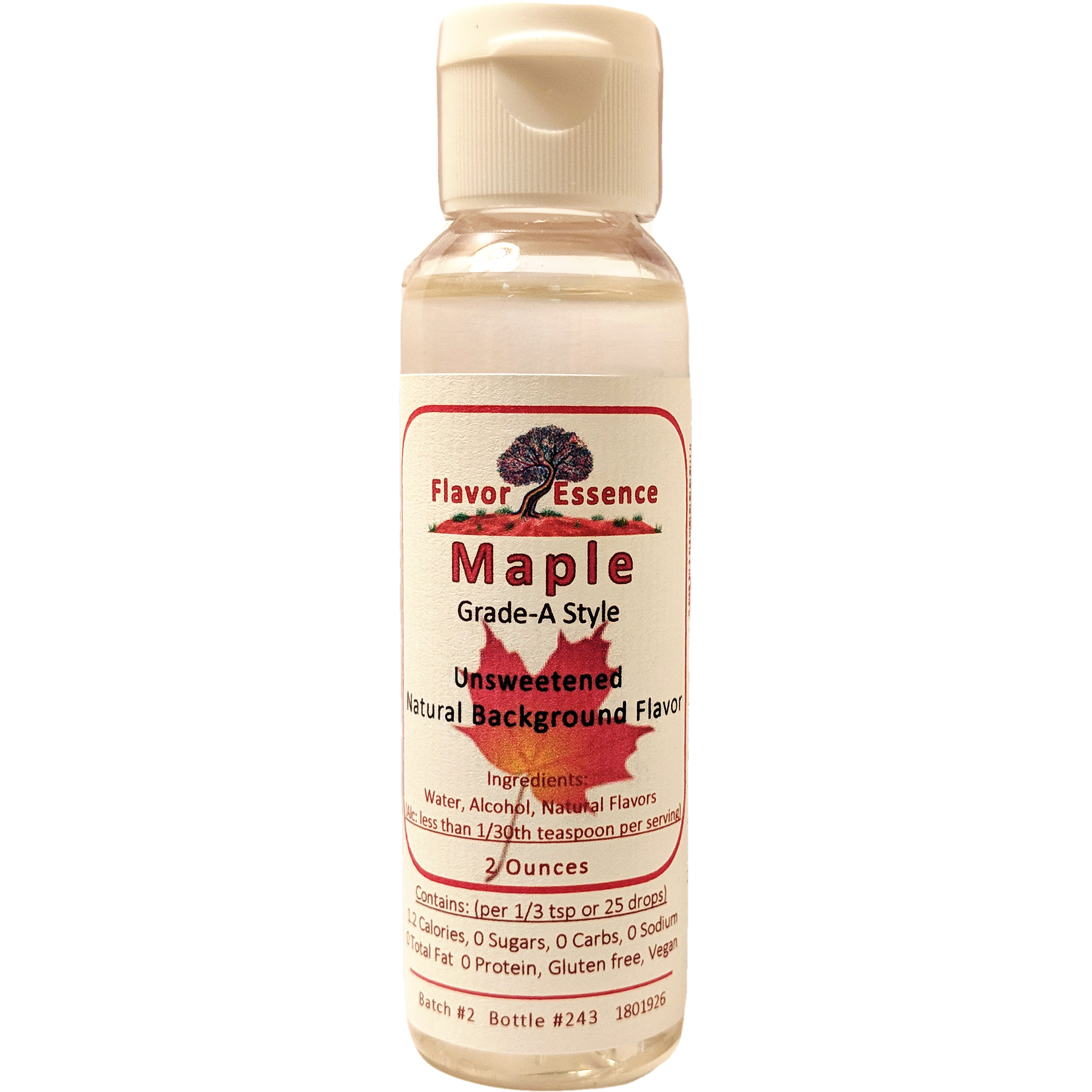 MAPLE (Grade-A Style) Unsweetened Natural Flavoring

-Rich earthy aromas, with very warm-clean maple body of flavor. The overall finish of this Maple is lush, yet elegantly soft. (This recipe is completely without any sweeteners --add your own). And it is a kind of exciting product for you to use, without that cloying artificial candy-ish taste or after-taste that is so disappointing in artificial products.
If you've ever visited a sugar shack in New England while Maple sap is being boiled and evaporated, the aromas/perfume of this Maple will remind you of the heady steam that fills the sugar shack on the first evaporation runs. This unique product has a flavor "personality" that deliciously tastes like the Grade-A samplings that visitors get to sip while the first vats of concentrated maple liquid are still warm.
Natural Flavoring -Unsweetened (Add your own favorite sweetener)
1.9 Calories, 0 Sugars, 0 Carbs, 0 Sodium, 0 Total Fat, 0 Protein, Gluten Free, Vegan
Contains: water, alcohol, concentrated natural flavors only (Unlike extracts, the alcohol here is purposely minimized to a very nominal level of well less than 1/30th of a teaspoon per serving.
Small batch production 275 to 375 bottles, each batch

Do not refrigerate, store at room temperature out of direct sunlight

Shelf life: Improves with age (like all of our other flavors)
2 OZ -Portion-controlled flip-top cap - squeeze your own customized amount either directly into drinks or a into measuring spoon for your batches & stir
Flavor Essence Flavorings
Average rating:
0 reviews